De laatste dagen van dit jaar waren verdrietig, omdat Kloris z'n jongste zus is verloren en haar gezin een, zoals het op haar kaart stond, sprankelende vrouw, mam, beppe en oerbeppe. Ja, wij zeggen oma of omi als we het over onze groot- of overgrootmoeder hebben, maar de Friezen hebben daar stoere woorden voor. Haar afscheid was sfeervol en eindigde in een restaurant waar we een glas geheven hebben op haar leven. Dat had ze zelf allemaal zo geregeld en dat was goed Een mooie sfeer om mee naar huis te nemen. We hebben familie ontmoet, van wie de we namen wisten, maar de bijbehorende gezichten niet hadden gezien. Of sinds mensenheugenis als kleuters. De broers en zusters van Kloris zagen of spraken elkaar regelmatig, maar de nazaten van e.e.a…..? Zo zal het in andere families misschien ook wel gaan. Hou het maar eens bij als je ouder wordt!
Maar goed, weer een nieuw jaar, mensen! Laten we er maar weer het beste van proberen te maken. Als Moeder Natuur ons een beetje terwille kan zijn, graag. Als wij dat andersom dan ook doen….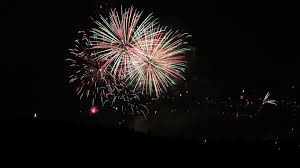 Een goed 2023 voor iedereen!
Ik wens iedereen namens onze Elswhere.org-familie een warme, gezellige Oudejaarsavond! Ik denk, dat ondanks het zogenaamde 'verbod ' Apeldoorn wel weer het nodige vuurwerk zal afsteken. Hopelijk siervuurwerk, zodat al de mensen die het Oekraiense of ander vuurwerk nog in hun oren hebben er een beetje tegen kunnen en kunnen hopen op een beter jaar.