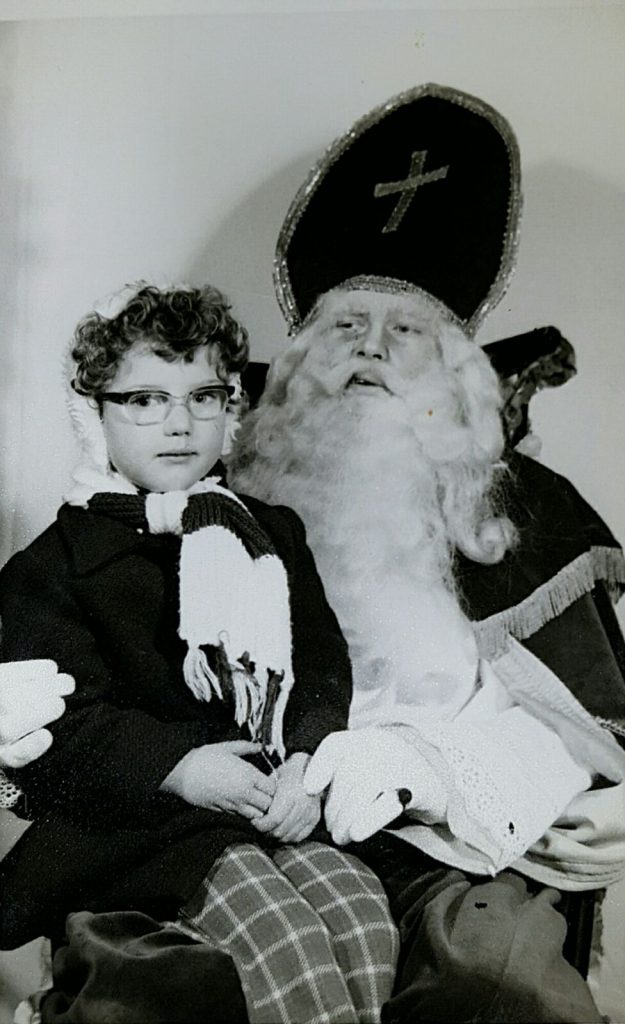 Ja, vroeger zette je je kind onbezorgd op schoot bij een (meestal) onbekende verklede oudere man, die door een warenhuis of supermarkt was besteld om als Sinterklaas te fungeren.
Sommige van die mannen verhuurden zich als zodanig, maar soms was het gewoon iemand van de expeditie of de chef van de groenteafdeling en was de jongen van de lege flessen ineens zijn geschminkte knecht. Iedereen vond dat best leuk.
Zo kom ik aan bijgaande foto van onze jongste dochter, want die werd gemaakt in de supermarkt. Zal wel bij aankoop van het een of ander geweest zijn of mijn eindbedrag op de kassabon was hoog genoeg.
Er kon geen lachje af bij onze Ingrid. ( Bij Sinterklaas trouwens ook niet, want ze was kind nummer zoveel waarschijnlijk !) Maar onder de indruk was ze wel. Ik weet eigenlijk niet meer of ze toen nog gelovig was, maar dat zal wel, anders laat je je niet zo neerzetten.
Zij helemaal niet, want zij was op jeugdige leeftijd al een kind dat zei: "Ik ben baas van mezelf !" Wij vonden dat wel wat hebben, maar mijn moeder zei destijds, dat we nog heel wat zouden beleven met dat kind. Leuk toch?
Maar wij hebben gezellige en leuke sinterklaastijden beleefd met onze kinderen, maar ze zijn wel voorbij. Voor alles is een tijd. Die tijd is voor de huidige kleuters anders dan voor die van ons vroeger. En dat vind ik wel jammer voor ze. Maar het is wel 5 december ! Gezellige avond…..!